5 great family-friendly holiday attractions on Chinese tropical island of Hainan
In partnership with:
Department of Tourism, Culture, Radio, Television and Sports of Hainan Province
5 great family-friendly holiday attractions on Chinese tropical island of Hainan
China's tropical island resort of Hainan is the perfect place for families – offering a wide array of attractions and luxury resorts that will please both parents and children.
November 15, 2019
By Maggie Hiufu Wong
Choices range from a trip to a vast, cinema-themed town, a dinosaur-focused study park, an ecologically protected rainforest – or a stay at one of the stunning hotel resorts with offerings tailored specially to your needs.

Check out 5 holiday attractions that should suit the needs of any family.
Explore the great outdoors and rainforests
Yanoda Rainforest, which means "hello" in Hainanese, is an ecologically protected jungle offering both rainforest hikes and action-packed trekking adventures for those who love nature. Photo: Shutterstock
With more than 60 per cent of Hainan covered in green forest, the island resort is never short of adventurous outdoor holiday pursuits that will appeal to budding Tarzans and Indiana Jones. 

If you have time to visit only one of the many rainforests in Hainan, then you must visit Yanoda Rainforest Cultural Tourism Zone in Baoting Li and Miao Autonomous County.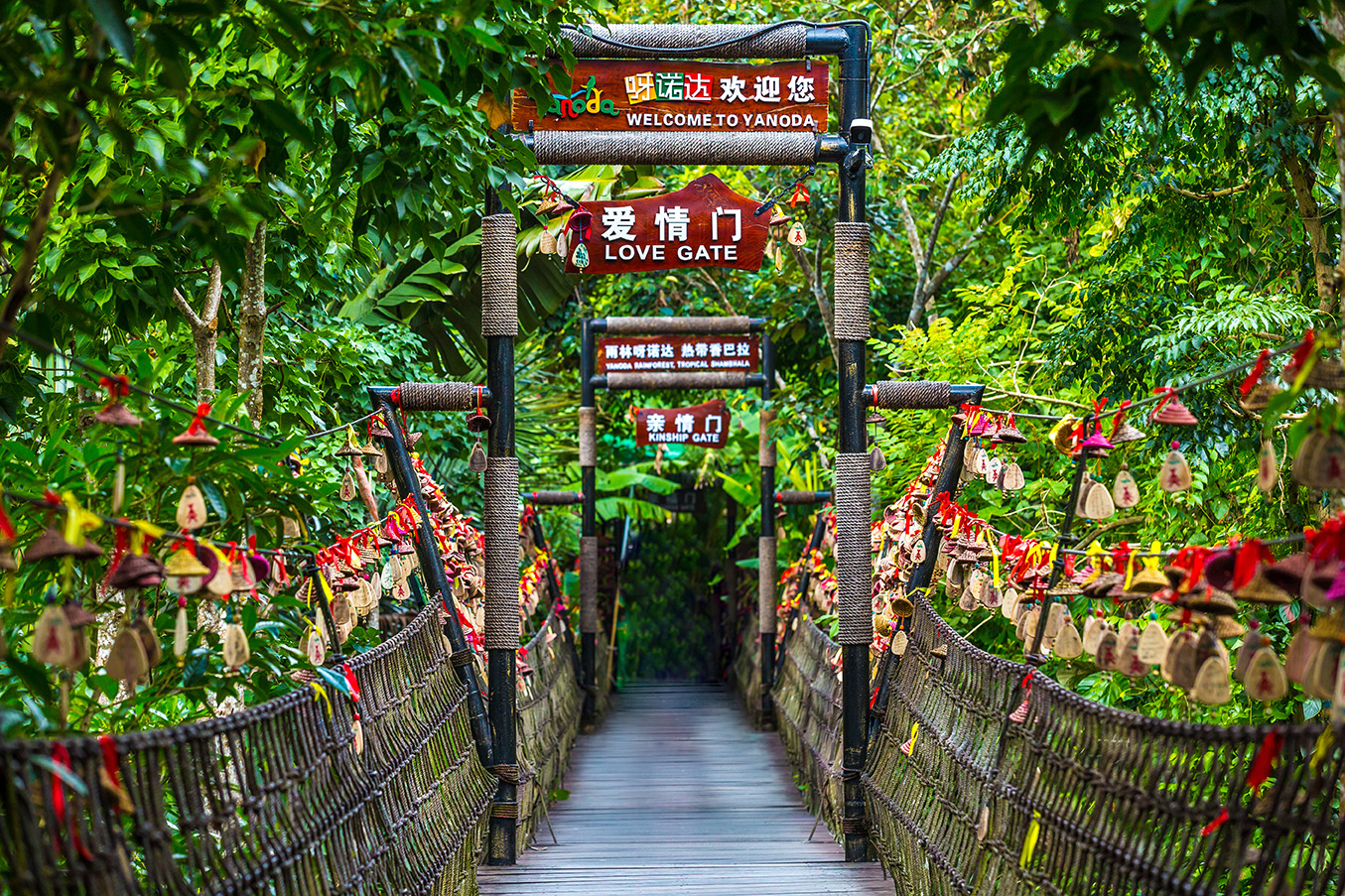 Love Gate, located along the hiking trail in the picturesque Yanoda Rainforest, features a wooden pendant bridge with an arch that symbolises love. Photo: Valery Bocman / Shutterstock
Yanoda – spanning 45 square km (17 square miles), and surrounded by another ecologically protected area covering 123 square km – is literally translated as "one, two, three", which means "hello" in the local dialect. It comprises two main areas – Rainforest Valley and Dream Valley. Rainforest Valley features easier rainforest hikes, routes and family-friendly activities, while Dream Valley offers a two-hour action-packed guided trekking adventure for the physically fit.

"Hainan has great natural scenery and clean air, so we think it is a good destination for families to visit," says Angie Qi from Wuhan, who travelled to Yanoda with her husband, their two-year-old son and her husband's parents. 

"Yanoda is great for older children, but Yalong Bay Tropical Paradise Forest Park also has easier scenic trails if you're travelling with toddlers and elderly people," Qi, who visited both parks during her trip, says.

Yalong Bay Tropical Paradise Forest Park became widely known in China after being featured in the hit Chinese film, If You Are The One 2, starring Ge You and Shu Qi.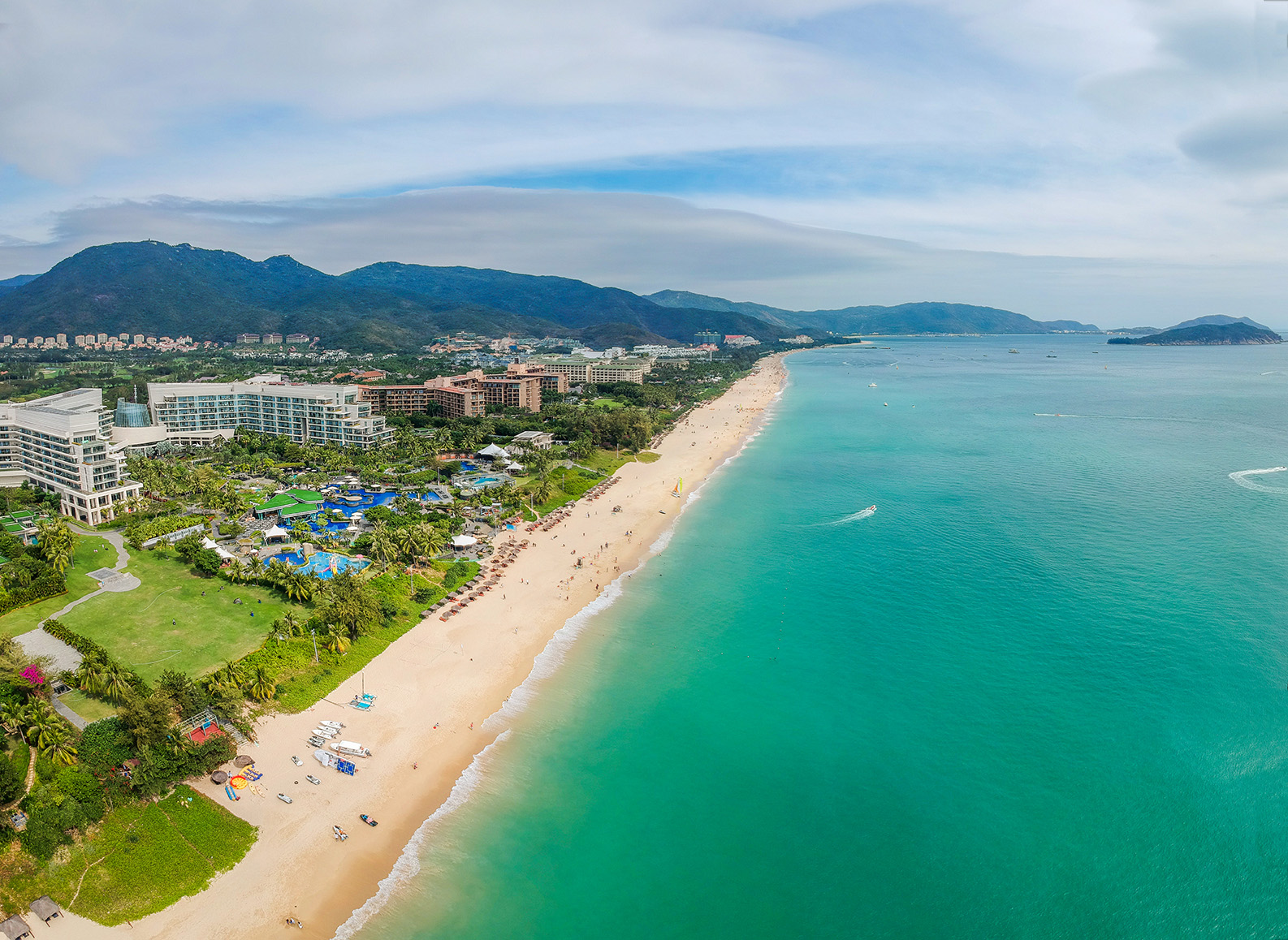 Yalong Bay, in Sanya, which rose to national prominence after being featured in a hit feature film, offers stunning views along the coast of Hainan. Photo: Shutterstock
Some of the park's attractions include a suspension rope bridge and a pagoda, offering panoramic views of Sanya's sea shore. Attractions that were featured in the film include a hillside chapel and the Yalong Bay Earthly Paradise Bird's Nest Resort. 

For families staying in the north of the island, Haikou Volcanic Cluster Global Geopark is only 15km (9 miles) from Haikou, the island's capital.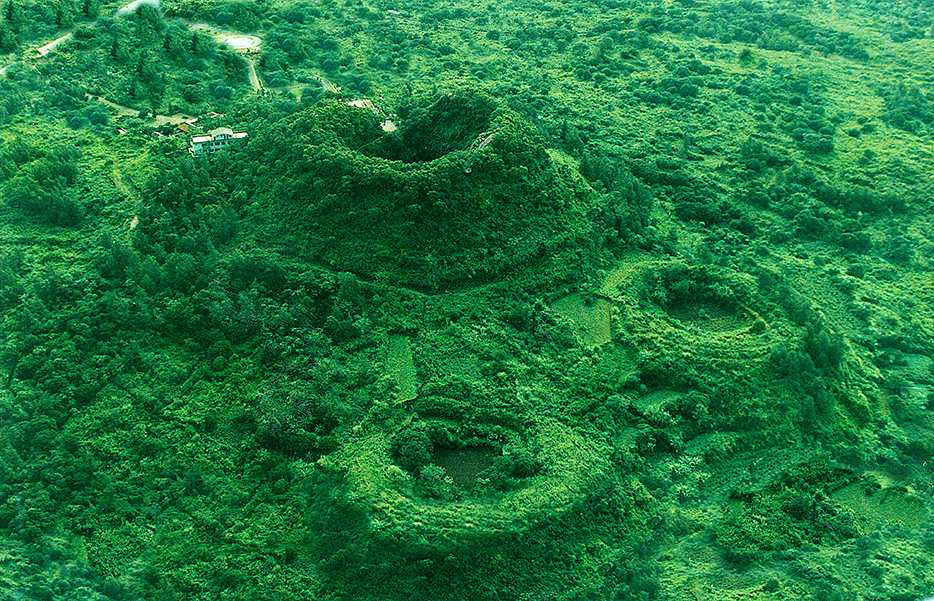 Qiong Bei, a dormant volcano located only 30 minutes away from Hainan's capital, Haikou, is recognised by Unesco as a Global Geopark for its unique rock formations and geological landscape.
Listed by Unesco as a Global Geological Park in 2006, its main tourist attraction is its dormant volcano, Qiong Bei – believed to have last erupted 13,000 years ago. But the park also offers a further 36 volcano craters, a geological-themed museum, a 200-year-old temple and the Volcano Restaurant, which serves rustic local offerings, such as mountain goat meat.
Let's head to the Jurassic world!
China Dinosaur Park, located outside Sanya, features more than 300 life-size dinosaur models of species that once roamed China. Photo: Tropicalhainan.com
Driving along the road outside the Yuan Longping R&D Center, you would never guess that it is a world-renowned scientific research centre.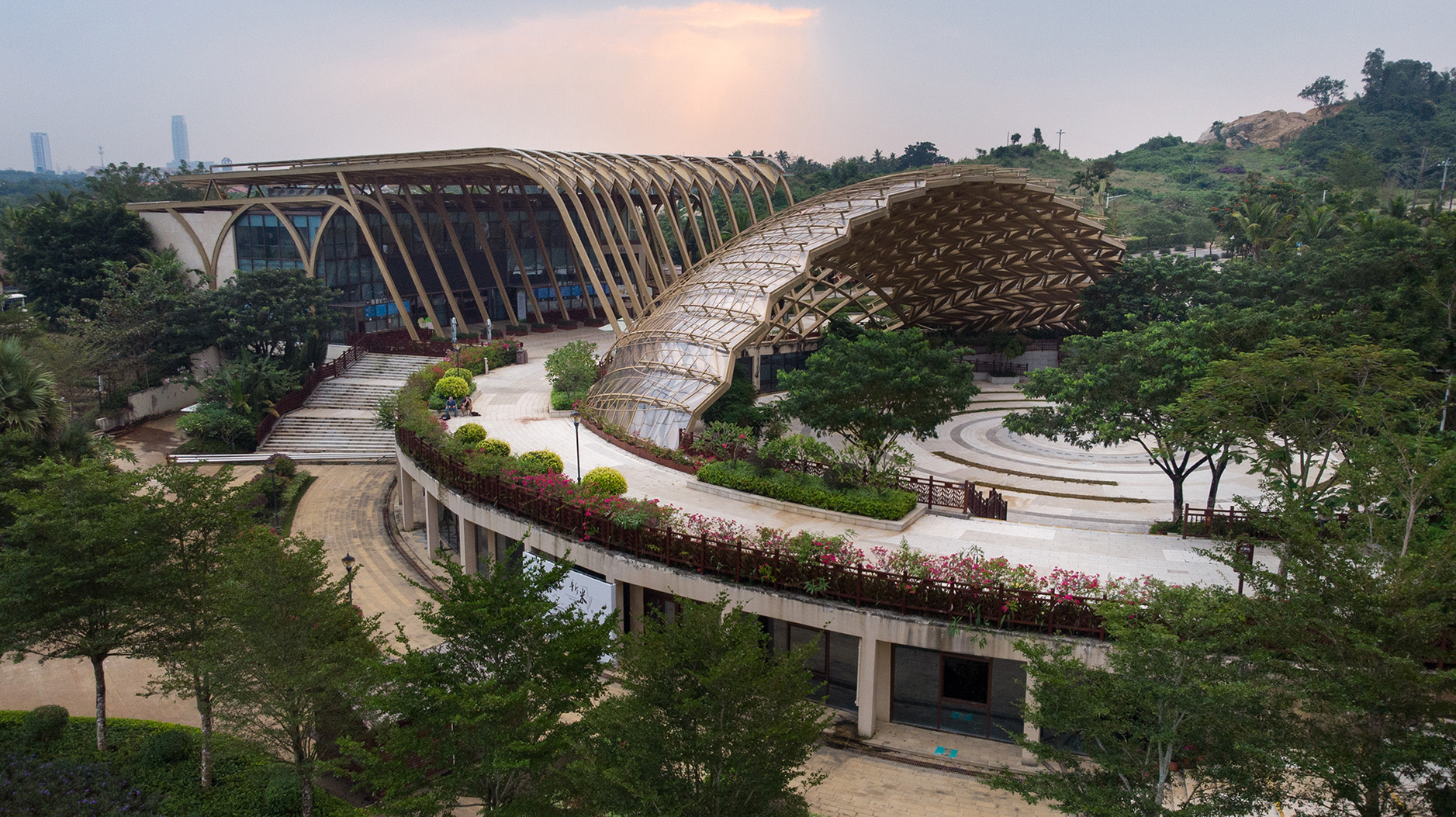 The Yuan Longping R&D Center is carrying out important research into new sustainable and productive rice crops to feed China's growing population. Photo: Tropicalhainan.com
Named after Chinese agronomist Yuan Longping, the "father of hybrid rice", scientists at the park are working on developing sustainable, high-yield and disease-resistant strains of Asia's staple food, which can feed larger populations while taking up less land. 

Outside the R&D centre is a China Dinosaur Park with more than 300 life-sized dinosaur models (of species once excavated from China), a vast flower-viewing park and a restaurant. 
Some of China Dinosaur Park's life-size dinosaur models are up to 38 metres tall, providing a vivid introduction to the giant reptiles that once lived on Earth. Photo: Tropicalhainan.com
Guests at Sanya's five-star Mangrove Tree Resort World Sanya Bay – comprising more than 3,000 rooms and 71 restaurants and outdoor attractions including the Amazon Jungle Water Park and Adventure Zone – can also enjoy some great indoor activities, away from the hot summer sun.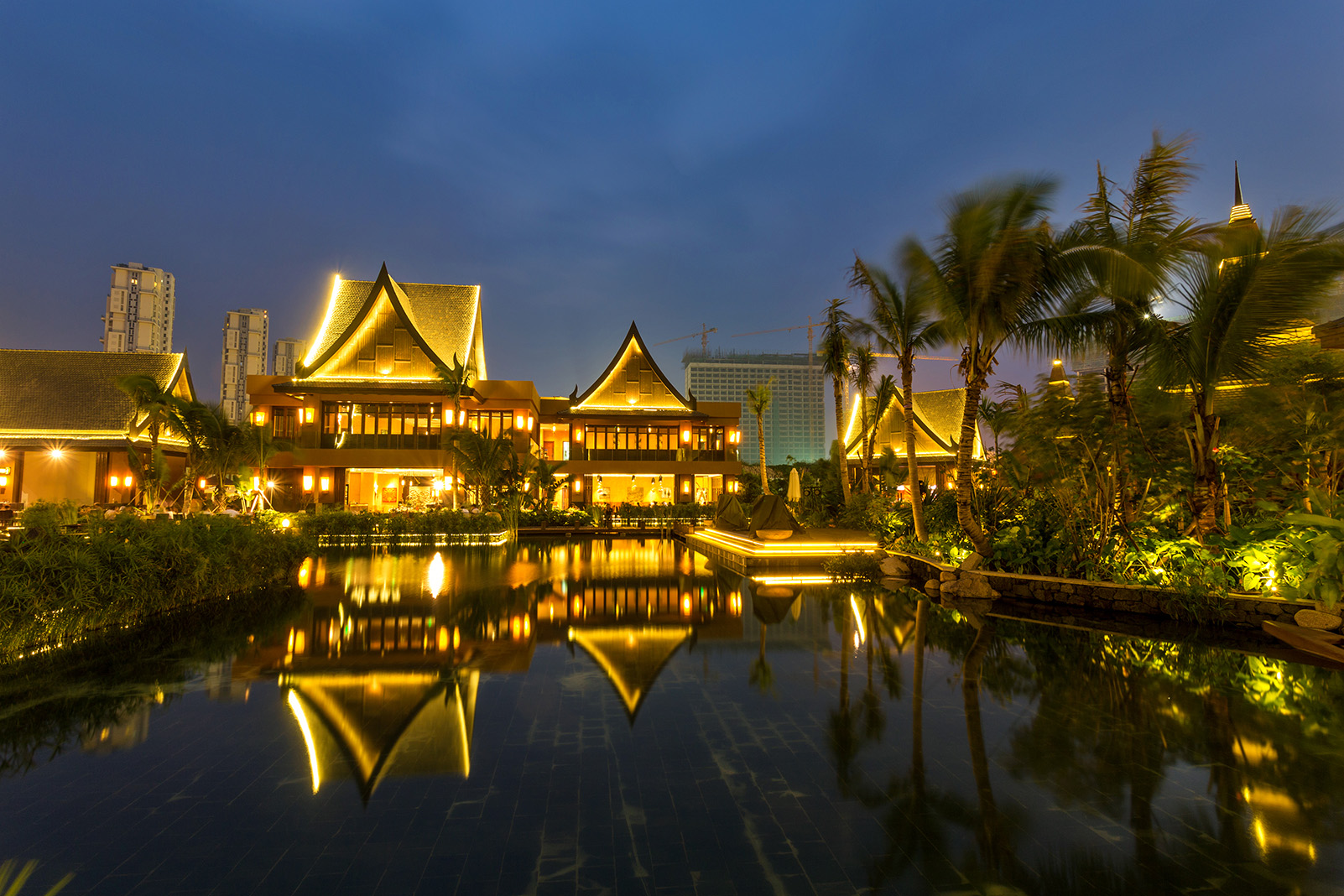 Mangrove Tree Resort World Sanya Bay, a luxury child-friendly hotel, features both an outdoor water park and an adventure zone. Photo: Zhudifeng / Getty Images
Today X Bookstore, inside the resort, has been dubbed Hainan's most beautiful bookstore. The 4,800-square-metre premises offer many more facilities than most other bookshops, including a spacious children's playroom with a treehouse-like reading room.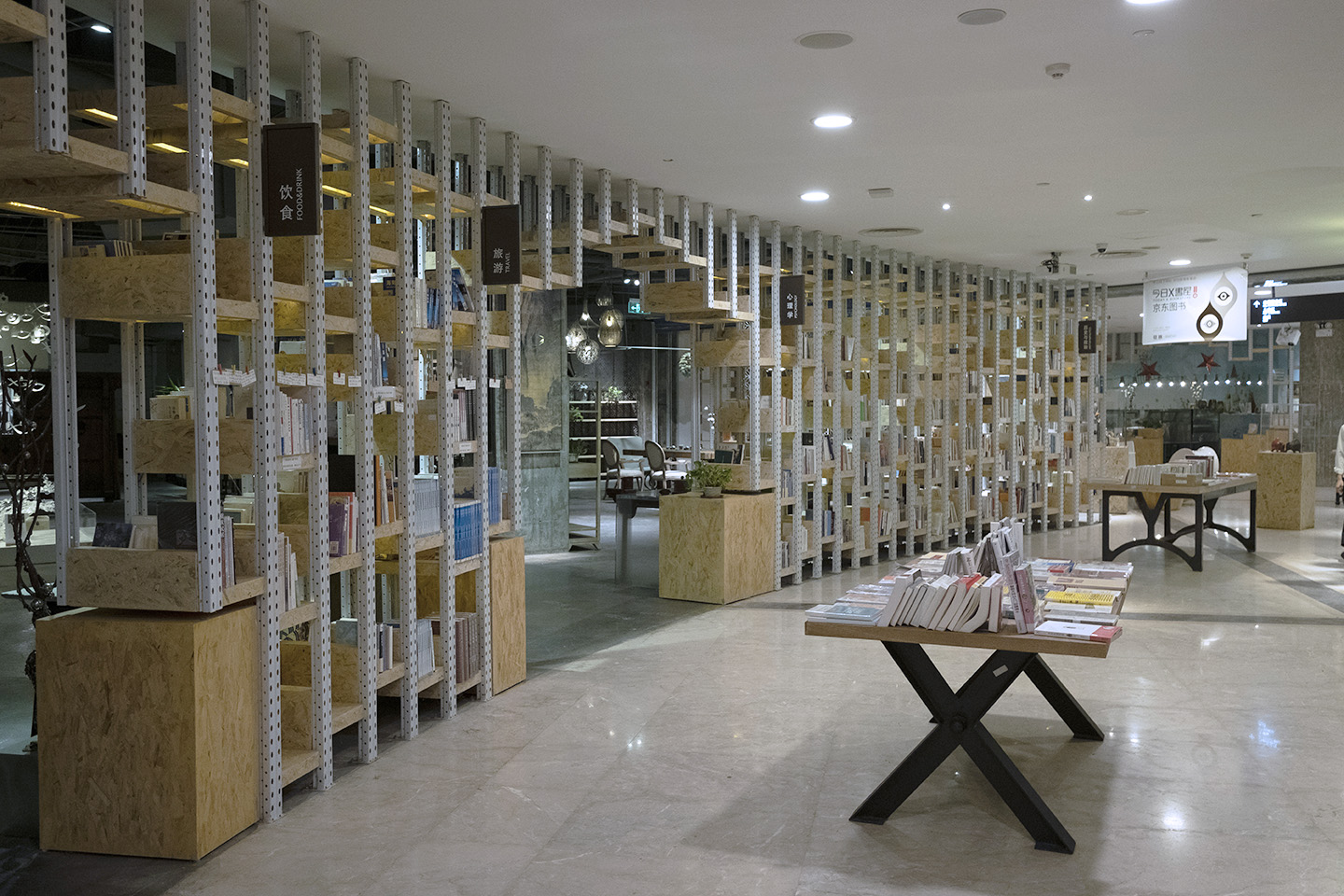 Bookstores may not always be an ideal tourist destination, but the X Bookstore, at Mangrove Tree Resort World Sanya Bay, includes a spacious area that features a treehouse-like reading room. Photo: Alex Chan@zennotgraphy
Staff also host educational activities for youngsters, while parents can also sign up their children for local handicraft workshops.

The bookshop also has a café, painting area, hi-fi zone and "Zen area" for those visitors who want to zone out.
Round the clock cinematic magic
Feng Xiaogang Movie Town, named after a renowned Chinese film director, offers movie-themed attractions where guests can immerse themselves in an interactive cinematic experience. Photo: Tropicalhainan.com
Hainan has its fair share of unusual theme parks that are sure to attract families. Feng Xiaogang Movie Town, in Haikou, is built on a 1,500-acre (607-hectare) site and features specially designed period streets and buildings – all created for use as film and television production locations by nearby studios – where visitors are free to walk and relive scenes from cinematic history.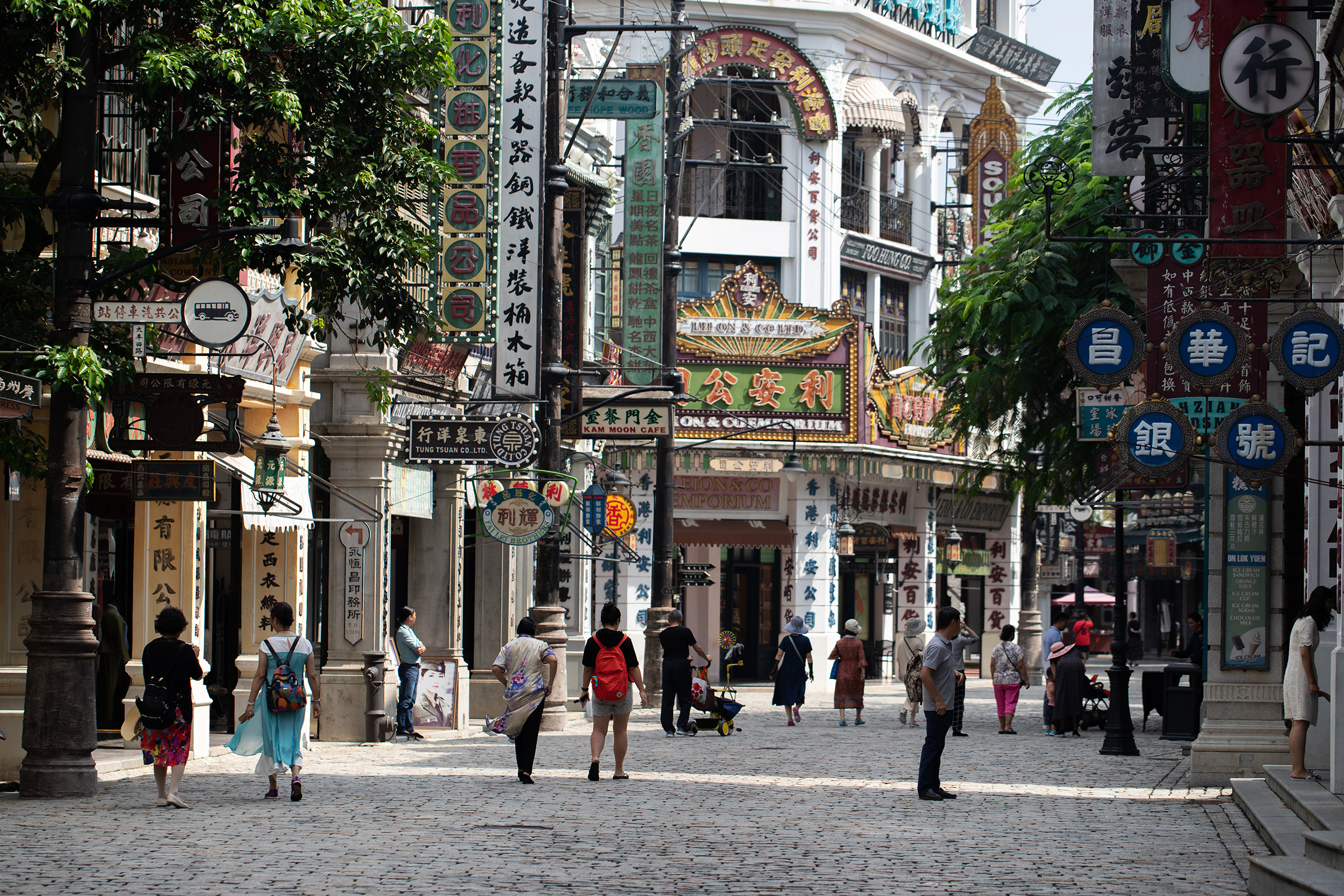 Haikou's Feng Xiaogang Movie Town, which opened in 2013, comprises many period buildings and streets for use in film and television productions, including buildings that resemble those from scenes in some of director Feng Xiaogang's most famous films. Photo: Tropicalhainan.com
"The worlds in films seem to be out of reach for most people, [but] we're trying to bring the movie characters and scenes [to life] here so people can be a part of those worlds," Zhang Daobao, the park's performance manager and director, says.

The park is named after Feng Xiaogang, a renowned Chinese film director, whose work includes If You are the One and its sequel, If You are the One 2, Back to 1942 and I Am Not Madam Bovary. It features recreated buildings from a number of Feng's atmospheric films. Feng's favourite art director, Shi Haiying, was the mastermind behind the design of the town, Zhang says.

"Shi has influenced everything in the town, even the typefaces for all the shop signs in the towns."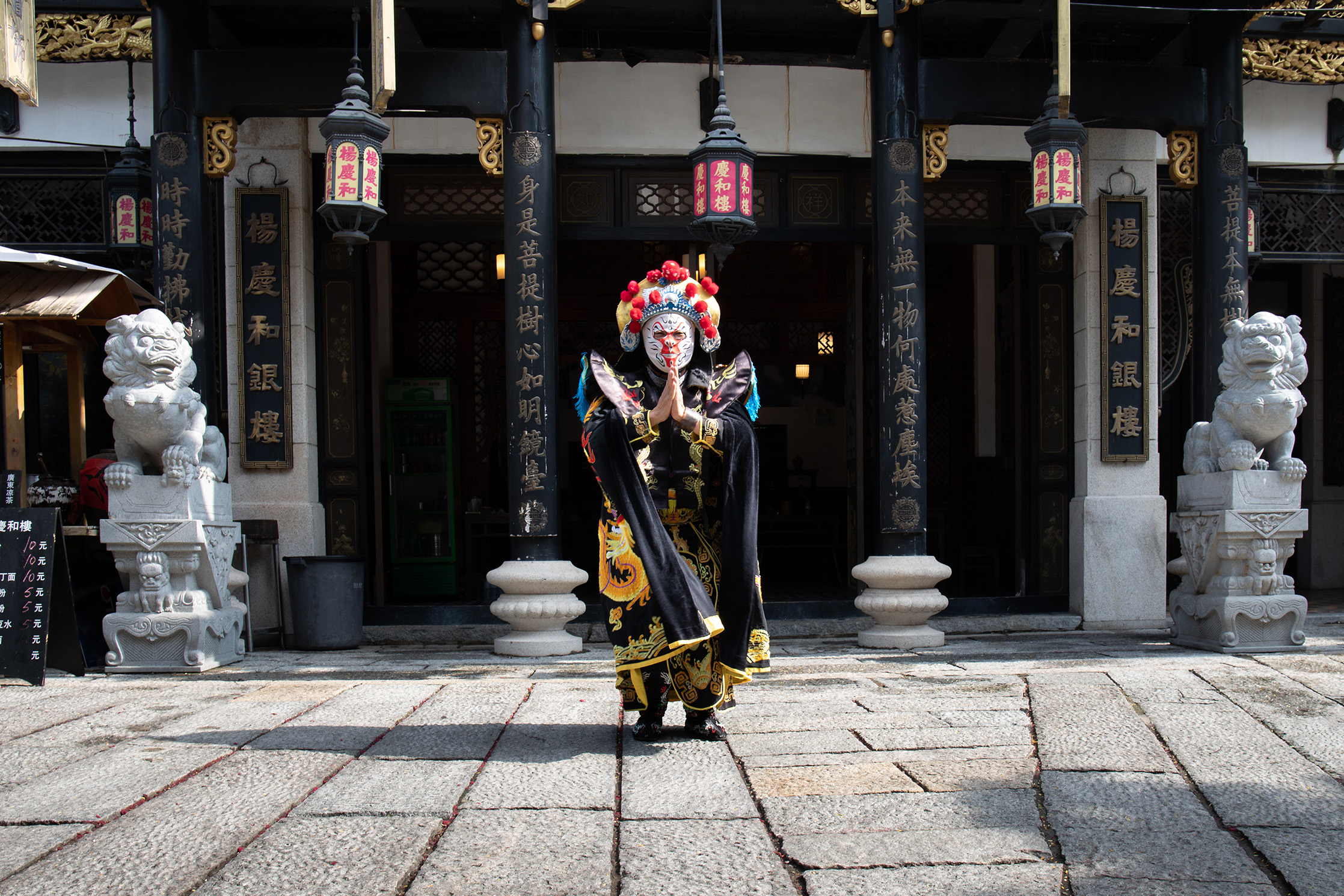 Haikou's Feng Xiaogang Movie Town features regular performances of short martial arts dramas. Photo: Tropicalhainan.com
There are six main attractions where guests can enjoy an immersive cinematic experience. Nanyang town, featuring architecture resembling Haikou's qilou (old shophouses with influences from Southeast Asia), is the most photogenic attraction and 1942, which comprises mostly retro wooden architecture, offers visitors the chance to take part in martial arts scenes. There is also a street displaying the autographs of dozens of Chinese and international stars.

Short dramas are performed regularly around the different towns, but Zhang says the theme park plans to expand the performances in the near future.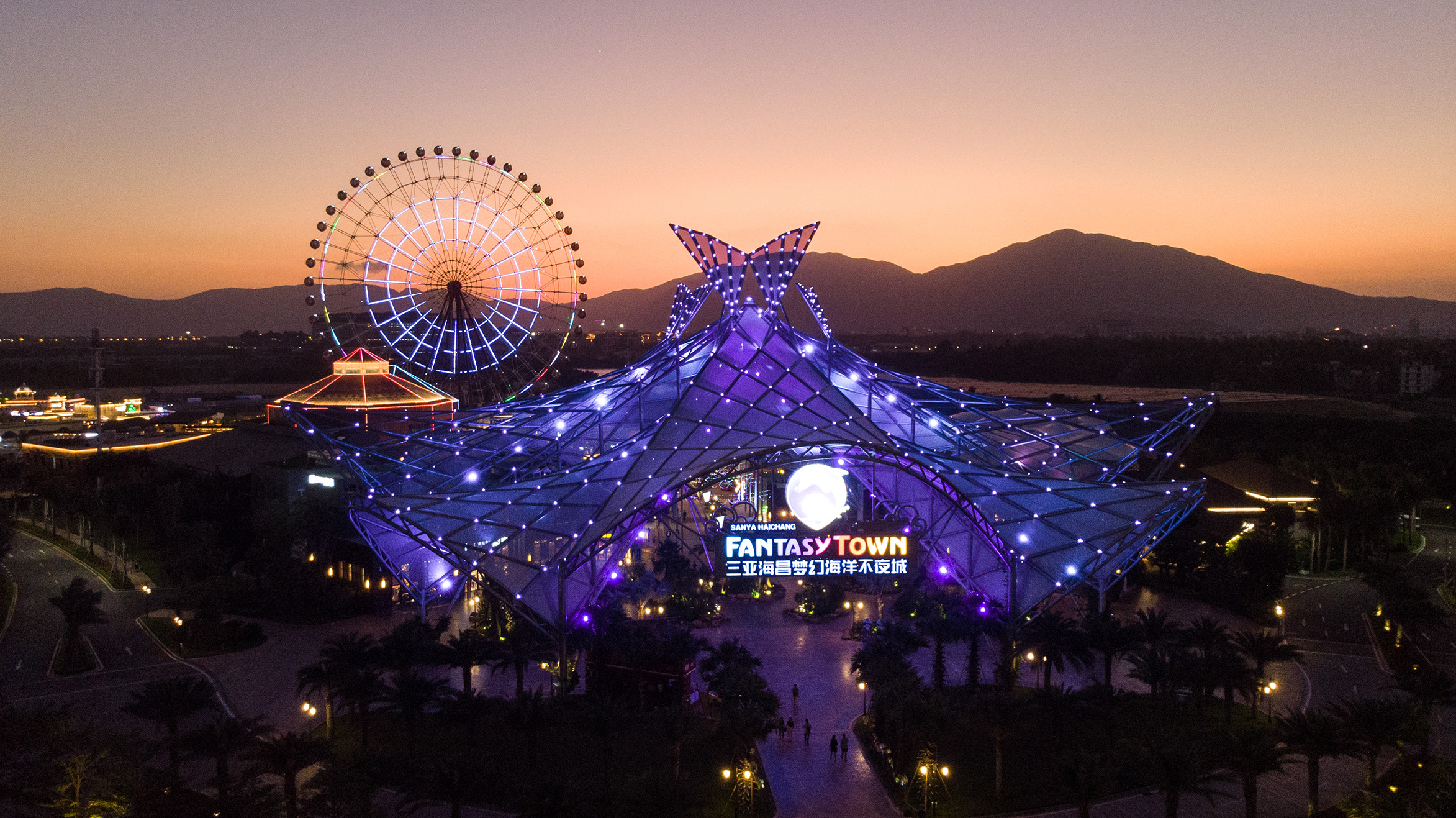 Sanya Haichang Fantasy Town – China's first theme park that never sleeps – offers a variety of rides and shows 24 hours a day. Photo: Tropicalhainan.com
For families who still have energy to spare after sunset, hahha – China's first 24-hour theme park – offers 13 major day-and-night attractions in a variety of different zones, including various exciting rides, theatre shows, an aquarium, observatory wheel, a multi-sensory cinema, themed restaurants, shops – and even a beer bay.
... if Mum and Dad need a break
Hainan's city of Sanya is home to many luxurious family-friendly resorts. Photo: Shutterstock
As a family-friendly resort island, Hainan's luxury hotels have been designed to allow parents to enjoy their holidays with their children without having to leave the properties.  Most of the hotels offer customised family services.

Crowne Plaza Sanya Haitang Bay Resort – which resembles a gigantic cruise ship sailing into Haitang Bay – has its own private beach area, four outdoor pools and an indoor rooftop pool.

Special features for youngsters including a well-equipped playroom, cooking classes and a restaurant dedicated to children, which serves inventive, colourful and nutritious meals. Guests can opt to book sea-viewing family suites, which have interiors designed for the needs of both parents and children.

The Ritz-Carlton Sanya, Yalong Bay runs special family activities at its resort each day. A noticeboard in the family corner provides up-to-date details.

Activities include poolside film screenings and a professional photoshoot at the beach with a tag-along photographer.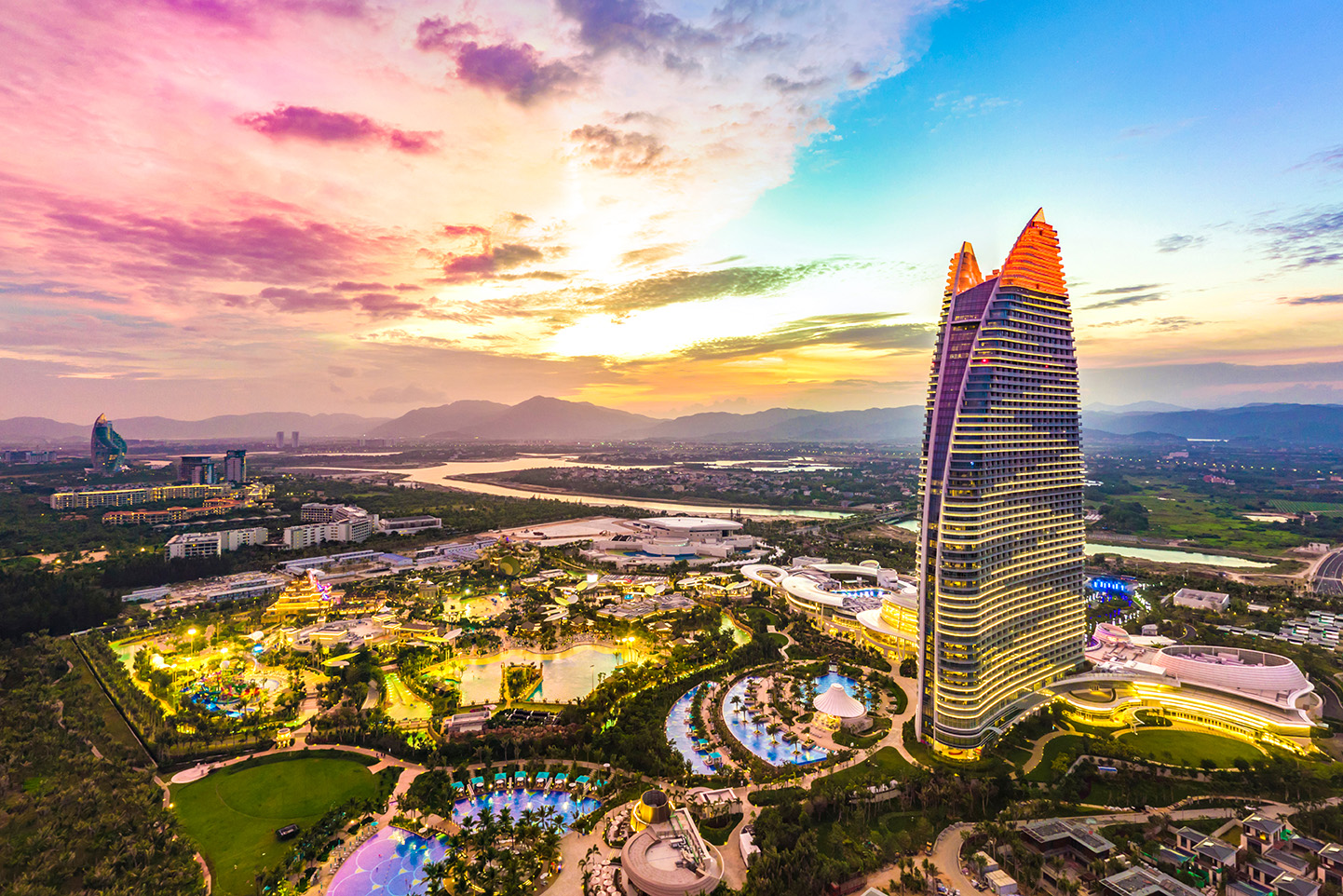 The Atlantis Sanya Resort, which cost US$2 billion to build, provides a panoramic view of Haitang Bay and comes with an open-air aquarium for guests to do scuba-diving. Photo: DreamArchitect / Shutterstock.com
Costing US$2 billion and four years to build, Atlantis Sanya, Haitang Bay, Sanya, has taken the city of Sanya's luxury family resorts to another level. 

The 1,314-room hotel, which overlooks Haitang Bay, features its own full-sized Aquaventure Waterpark, and an enormous open-air aquarium where guests can go scuba diving.

Parents can relax in the resort's Ahava Spa, while their children immerse themselves in the numerous state-of-the-art attractions offered at Club Rush, where the emphasis is on adventure, fun and exploration.
Coming soon … Hello Kitty and Legoland
New theme parks are on the way - a new Hello Kitty-themed resort is expected to hit Hainan by 2024. Photo: ARTYOORAN / Shutterstock.com
In the future, Sanya plans to open China's second Legoland Park (Shanghai will be the first). The new Sanya Legoland Park will be water-themed and is expected to combine elements of existing Legoland Parks and Hainan's tropical features.
Untimely rains hit India's summer crops, delay rural economy recovery
Gov't on alert on rice smuggling, hoarding
With rice imports surging, the government is shoring up tariff collections while also looking into possible hoarding and smuggling amid falling retail prices, according to the head of the Duterte administration's economic team.
In a speech at the 14th World Rice Conference on Wednesday, Finance Secretary Carlos Dominguez III said revenues from import tariffs slapped on rice already amounted to P11.4 billion at end-October.
Under Republic Act No. 11203, or the rice tariffication law implemented since March, the following tariff rates apply: 35 percent if rice was imported from Asean; 40 percent if within the minimum access volume (MAV) of 350,000 metric tons, from countries outside Asean; and 180 percent if above the MAV and coming from a non-Asean country.
Since collections this year already exceeded the annual P10 billion to be automatically allocated to the Rice Competitiveness Enhancement Fund, Dominguez said the government had "ample means to do even more to make our agricultural production more efficient."
Dominguez said the government would extend help to farmers especially affected by the drop in palay prices.
Citing data from the Philippine Statistics Authority, the finance chief said prices had declined to its current average of P15.71 per kilo from its "normal" price of P17.23 during the 2015 to 2017 period.
He said this meant an average loss of P1.52 per kilo. He noted, however, farmers in some provinces even lost P5.63 while others saw a P3.75-increase.
"The government is constantly monitoring location-specific prices so that interventions may be deployed on an evidence-based and tightly targeted manner," Dominguez said.
as on : 15-11-2019 03:00:01 PM
China's rice imports from Kingdom on the rise
DA issues tougher rice import guidelines
'Golden Rice' Review: Against the Grain
An estimated one million people—mostly children—die annually from vitamin-A deficiency. Golden rice could reverse that.
Why has it taken more than two decades to develop "golden rice," the genetically modified crop that promises to save millions of lives? The many delays have been costly. Every year an estimated one million people, mostly children, die, and another half a million more lose their eyesight, from vitamin-A deficiency. Golden rice—with its yellow grains rich in beta carotene, which the human body turns into vitamin A—could virtually eliminate this problem in countries where rice is the staple food.
After scientists developed the...
Japan to help Nepal in agri research
Plant growth promoter effective vs tungro virus, leaf blight
Bilawal rejects Rs50 per maund increase in support price of wheat
Genetic advances in barley overcome climate impacts, TropAg hears
EPFL creates a solar cooker with solid potential in Switzerland
Kafer: Reducing the threat of food insecurity here and abroad
Imee Marcos says DTI plan to import rice for fast food chains is 'insensitive'
The government's plan to import rice on behalf of fast food chains, grocery stores, and small supermarkets, instead of buying local, is insensitive, Senator Imee Marcos said Friday.
Marcos is seriously disappointed that a government-owned corporation under the Department of Trade and Industry (DTI) would prioritize imports over local produce at a time when rice farmers nationwide have been selling their harvest at depressed prices or even at a loss.
"The announcement of Secretary Lopez is insensitive and ill-timed. Cheaper imported rice is not worth the breakdown in the livelihood of Filipino rice farmers," she said.
The DTI chief announced the plan on the sidelines of an international rice conference in Makati City, noting that up to 300 containers could be shipped into the country in the next few months.
"Where is our conscience and what got into the heads of these businessmen who choose foreign goods over our very own at a time of crisis?" Marcos said.
Brazilian rice exports fall, imports climb
Rio Grande do Sul crop hampered by rains, price rises
Rice exports from Brazil decreased in October as imports rose, leaving a balanced market. Meanwhile, heavy rain is impacting planting in the country's leading producing-state, Rio Grande do Sul.
For Third Consecutive Month in October, Exports Dip 1.11%; Major Drop in Tea, Rice, Carpet Shipments
Imports too declined by 16.31 per cent to USD 37.39 billion in October, narrowing the trade deficit to USD 11 billion, according to the government data.
For Representation
Anil Ambani Resigns as Director of Reliance Communications
According to the filing, Ambani along with Chhaya Virani, Ryna Karani, Manjari Kacker, Suresh Rangachar have resigned as directors of RCom.
File photo of Anil Ambani. (Reuters)
Weekly Stocks Update: Top Gainers and Losers for the Week Ended November 15
For the week ended on November 15, the S&P BSE Sensex inched up by just 33 points, or 0.08%, to settle at 40,356.69, while the Nifty slipped marginally by 13 points, or 0.1%, to end at 11,895.30.
Govt Not Releasing Consumer Expenditure Survey 2017-18 Due to 'Data Quality Issues'
The ministry also mentioned that an expert panel has recommended that 2017-18 would not be an appropriate fiscal to be used as a base year for new GDP series.
Rice genetics specialist honored as role model
NRRI Organizes 'Rice Walk: Walk with Rice, Know Your Rice' Programme
The ICAR-National Rice Research Institute (NRRI) in Cuttack had organized "Rice Walk: Walk with Rice, Know Your Rice" Programme on 13th November 2019. Dr. Himanshu Pathak, Director of the Institute inaugurated the event. He highlighted the main purpose of the walk was to exhibit the NRRI technologies, farm & laboratories to spread awareness about rice among students as well a general public. He also released an extension bulletin entitled – 'Know Your Rice' encompassing all important field & lab research activities and achievements of the institute for distribution to all students & visitors.
The participants visited the Institute's Research Farm of about 200 acres with full grown crops of newly developed high yielding rice varieties. They were also exposed to the development of rice varieties, rice varietal cafeteria and other agro-technologies related to rice production, plant protection, biofortification (high protein rice) and climate-smart rice with tolerance to drought & submergence, etc.
The participants also visited the Institute's Rice Museum, Rice Gene Bank with collection of over 35,000 rice germplasm.
Around 1,500 students & teachers (from 15 schools in and around Cuttack and Bhubaneswar), farmers, scientists from ICAR Institutes & Centres and State Government Officials participated in the event.