Alvi stresses product diversification
Says Pakistan will gain access to good export market after peace in Afghanistan
---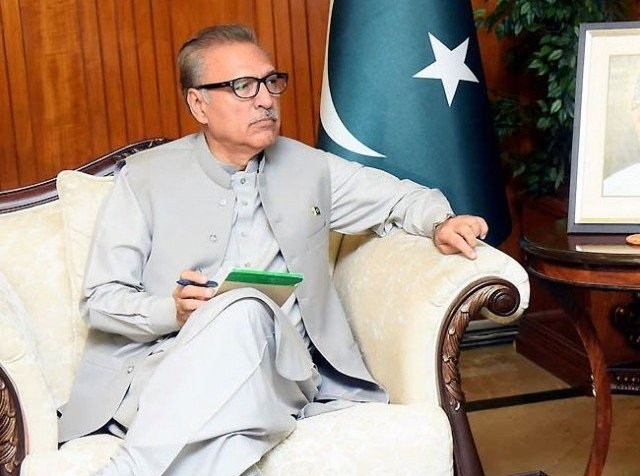 ---
LAHORE:
Pakistan is making all-out efforts for peace in Afghanistan keeping in view that this will benefit Islamabad in a huge way, said President Dr Arif Alvi.
Addressing the business community at the Lahore Chamber of Commerce and Industry (LCCI) on Friday, Alvi said following restoration of peace in the neighbouring country, Pakistan would not only find a good export market but would also gain access to other regional countries.
"Diversification and value addition in products are a must for ramping up exports and exploring the untapped global markets, particularly in the African region," he said.
Alvi called for utilising information technology and artificial intelligence in the agriculture and other sectors to step up efficiency and enhance earnings.
"Unlike in the past, modern technologies have made it easier for businessmen to assess requirements of targeted markets in a bid to design the supply chain accordingly," he said.
"Currently, exports of Pakistan revolve around cotton, wheat, rice and sugar, which necessitates diversification of products and investment in modern fields like information technology."
He told businessmen that until 2010, top 10 global companies were associated with the oil sector but currently they were replaced by IT firms, which manifested the huge scope of the sector.
The president advised agriculturalists to think out of the box and consider producing beetroot in place of sugarcane, which placed burden on water resources.
He pointed out that flood irrigation of crops caused massive wastage of rainwater, which should be avoided and the natural resource should be preserved by adopting modern technology.
"Under the 10 Billion Tree Tsunami programme, the government has planted olive trees on a massive scale to meet the country's needs as well as to widen export opportunities," he said.
The president told businessmen to adhere to principles of morality, honesty and sincerity in trade across the globe, which would ultimately pay back in the long term.
As an initiative to promote Pakistan's fruits abroad, the President House dispatched mango packages to different heads of state along with descriptive pamphlets, he pointed out.
Alvi urged the business community to support industry workers and create job opportunities for women and differently abled people.
He emphasised that Pakistan had successfully sailed through the Covid-19 pandemic and extended support to the needy under the Ehsaas programme.
Published in The Express Tribune, September 19th, 2020.
Like Business on Facebook, follow @TribuneBiz on Twitter to stay informed and join in the conversation.